| | |
| --- | --- |
| | October 2017 |
| | |
A Potential Resurgence in Rhino Horn Demand

Earlier this year, a court ruling overruled the Government of South Africa's trade moratorium and passed legislation allowing domestic rhino horn trade. In the months following the reversal, a South African rhino rancher held an online auction for 500kg of rhino horn platform was available in Chinese and Vietnamese languages, which points to the intent to target this market. With more than 80 percent of the world's rhino population living in South Africa, and already unsustainable poaching rates driven by demand, Africa's rhino populations are threatened by extinction. The recent ruling can create dangerous loopholes to enable rhino horn smuggling, directly undermining China's enforcement actions against this illegal trade. It is imperative China continues to stand strong in prohibiting all imports of rhino horn and products into and within the country despite this setback in legislation.


> Find out how the ruling impacts rhinos
Changing Mindsets

To measure the success of our demand-reduction campaign in Vietnam, we conducted a series of surveys designed to measure changing attitudes between 2014 and 2016. We are already seeing the effects of the ads with an increase in awareness about the dangers of the rhino horn trade, and even a 72.7 percent decrease in the number of people who believe that rhino horn can cure cancer.


> See the detailed results results.
| | | |
| --- | --- | --- |
| | Give to AWF today, and help us expand our demand-reduction efforts to save Africa's rhinos from extinction. | |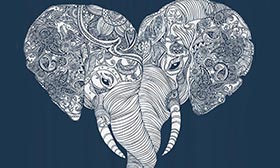 Shop for Conservation





Sharp Shirter teamed up with AWF to protect wildlife with their products. 100% of your money goes to protecting Africa's wildlife when you purchase a select AWF item. See the collection and tell your friends.